Moving day is stressful. Everything seems to be in chaos, your spouse accidentally packed your deodorant (much to everyone's disdain), and you've probably been living off of take-out and pizza delivery for the last few days. Couple that with a panicked, scared pet that doesn't know that packing up their entire home into big brown boxes does not mean they are being abandoned, and you've got quite the adventure at hand.
But don't worry, you may have to get used to smelling a little more "fresh" than usual, but as your local Burnaby movers we have some helpful tips to make relocating with pets just a little bit easier.
Tip #1: Keep Things as Familiar as Possible
Most pets have difficulty with change, especially when it comes to their environment. It may seem counter-intuitive, but the best way to combat this is to seclude them into one space for the majority of the day. Whichever room you know will be arranged last, keep them there. This way, they spend less time watching their surroundings change and it makes the transition easier.
Tip #2: Stick to Their Routine (as Much as Possible)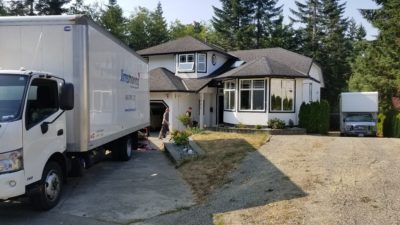 If you usually take your pet out for a walk in the morning, you should keep doing this even when things get stressful. Even if you only go for 15 minutes rather than 30, your pet is used to a certain schedule and will be much calmer throughout the day if their routine is not interrupted.
Tip #3: Don't Let Them Off Leash
This is a big one. Many pet owners feel safe with their pets off-leash in their usual neighbourhood, but in a new environment, things may be different at first. If your pet runs off, they don't know the area, so they are more likely to get lost. The best solution is to keep them in a kennel or on a leash until everything is done.
Tip #4: Cushion the Blow
Keep familiar objects like toys and blankets (not just for kids!) with them throughout the transition. Pets are often much like children in the way that a familiar object can bring them comfort in the most stressful situations. Your 5-year-old might have their favourite blankie, and your pet their favourite chew toy. Both give the same effect.
Tip #5: Update Their Info ASAP
Make sure you update their tags, or microchip if they have one, with the new address and phone number. If you are going far, make sure to talk to your vet about any important documents you may need to bring with you. You may also want to ask your vet to recommend a new one in the area you are going.
Once everything is said and done and the last box sits unopened in the middle of the kitchen floor because no one wants to lift another finger, you can sit back and admire all the great work you've done. Relocating isn't easy and doing it with pets is even harder! So, give yourself a pat on the back and your pet a good belly rub, and rest easy knowing you made it through the difficult task of relocating with your pet.